Setup
Typically a new Adomo box must be configured before it can be used. New Adomo boxes do not enable networking by default. Attach a working phone line to one of the phone ports on the Adomo. Call the phone line, Adomo should respond and ask for a passcode (typically this is 123456 for new models. Follow the voice menu prompts to enter valud IP address, mask, and gateway. When you are done the Adomo will be on the network using the IP address just given.
Note, to gain root access requirs a call to Adomo staff.

Web Interface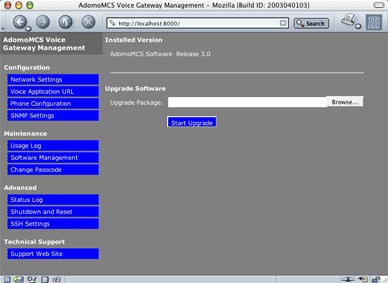 Typically all configuration and maintainence can be done from the web interface. As of this writing the custom application suite is at version 3.0 . Note the Shutdown, Reset link - it leads to another page that includes final links to Shutdown, Reset, and Cache Clear. Cache Clear is actually a complete service restart - see below for command line equivelents.

Restarting Service
# service infobridged status
  ...
# service infobridged stop
  ...
# service infobridged start
  ...

Clearing Sticky Cache
(normally Cache Clear from web interface is sufficient but not always)
# cd /opt/speechworks
# cd InetCache
# service infobridged stop
  ...
# rm -fr *
# service infobridged start
  ...